Resort Manager Lite is the basic version of the Resort Manager system – in other words, the 'Lite' or cut down version of the full Resort Manager suite.
Basically this will provide basic hotel operations essentials like Front Desk, Reservations and Point of Sales modules (and more. Resort Manager Lite is an effective system ideal for smaller hotels and rental villas just discovering the advantages of a computerized system to run their business.
Resort Manager Lite hotel management system contains modules for
All modules of Resort Manager Lite are fully integrated and facilitate multi-currency, multi-lingual, and multi-user operations. This results in a reduction of data entry errors and an increase in overall business efficiency.
If you would like a more complete system including finance, accounting, stock control, and purchasing modules, please take a look at our Resort Manager solution.
The Front Desk module covers all general front desk operations: walk-in bookings, guests in-house, task reminders, and telephone directories. It also contains the Night Audit Wizard to simplify closing the end of day's business transactions and start the system on a new business day.
Also, all these front office services have pre-set selections, usually assigned by a manager and controlled by the Settings tools.
Walk-Ins
Guest In-House
Guest Phonebook
Night Audit
Tasks
Search
Walk-Ins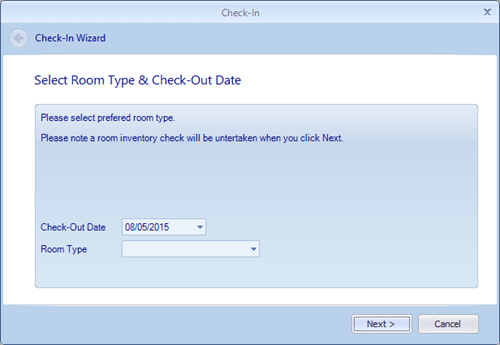 Walk-in guests are booked in at Front Desk. This is one of the check-in procedure in hotels. In conclusion, check-In Wizard feature guides the operator through all the necessary stages to book in the unexpected guest(s).
The Check-In Wizard ensures:
• availability of the requested room type for the requested duration stay. 
• allocation of a suitable, clean room.
Guest In-House
Guest Phonebook
Night Audit
Tasks
Search

The Reservations in Resort Manager Lite module covers everything that happens before the guest arrives. Whereas the bookings, guest records, room allocation, special requests etc.
There is a custom filter Room Calendar feature which also allows rapid 'room optimization' to be performed. Availability function provides Front Desk staff with all the information they require about upcoming room availability, including rates and special discount periods. One of the of the advanatages of having hotel reservation system. 
New Reservation
Reservations
Group
Room Calendar
Availability
Settings
New Reservation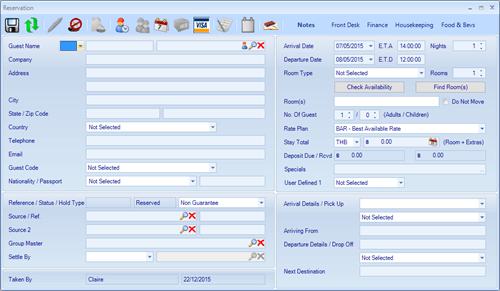 Reservation forms are either automatically generated through OTA (Online Travel Agent) bookings or can be manually completed from other sources.
Returning guests are automatically detected, past stays and details can be viewed and auto filled.
Availability of requested room type and allocation of a room.
Also, specific guest requests, notes and additional inventory items all handled.
Reservations
Group
Room Calendar
Availability
Settings
Room Status: Housekeeping
The Room Status module displays a grid of all the hotel rooms. This enables Housekeeping to view the status of each room at a glance. Basically, the status of each room can be quickly adjusted by a drop down menu or, for the common housekeeping tasks, through a 'click' button action.
Rooms Status
Room Status Codes
Rooms Status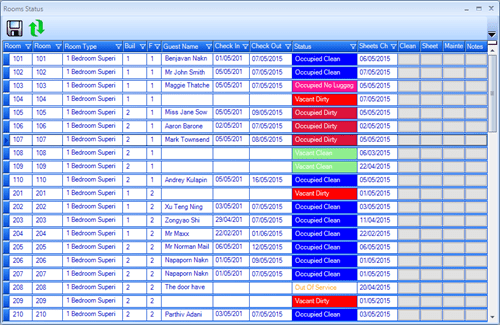 Resort Manager Lite Room Status module displays a visual grid of all the hotel rooms. Housekeeping can view:
• location details of each room.
• the type of room.
• occupying guest name, with check in and check-out dates.
• the current, colour coded status of each room.
• the date sheets and linens were last changed.
Room Status Codes
The Guest Relations in Resort Manager Lite module contains a complete record of all hotel guests whether they have stayed in-house or used the resort facilities.
Hotel Guests
Copy / Merge
Export Guests
Hotel Guests
There is a record for every hotel guest. This can be used for reference and to ensure a personalised hospitality service.
Along with the usual expected guest details are entry blocks for Comments, Likes and Dislikes and an alert check box.
Also, there are also fields for Loyalty Numbers and a space to display a photograph of the guest to ensure recognition by the Front Desk staff.
Additionally, there are menu buttons to open a detailed contact information form and demographics form, including entry for spouse with DOB for birthday reminders.
Copy / Merge
Export Guests

The PoS module is the back bone of all the Resort Manager packages. It is designed for use in restaurants, bars, night clubs and shops – anywhere cash, credit or account sales are made. The menu bar for the PoS Client can be seen above. Certainly, when set up most of the repetitive day-to-day business processes can be automatically performed by the Resort Manager system.
This highly versatile module substantially reduces any margin for human error and covers multiple service outlets. It is easy to operate and functions in whatever language or currency is required.
Categories
Product List Maintenance
Terminals
Item Modifier
Kitchen Messages
End of Day Wizard
Categories
A business often has multiple stations and outlets e.g., bars, restaurants, spas etc. and needs to define what products each of the stations can sell. Also, a group menu is set up for each station ensuring the correct products are available for the station.
Categories will be added, deleted or de-activated. The list will be ordered for convenience.
Additionally, outlets can be added as required. 
Product List Maintenance
Terminals
Item Modifier
Kitchen Messages
End of Day Wizard

Detailed and accurate daily and retrospective reports are essential for the financial management and advancement of any business. Resort Management manages and distributes reports as often as required. Reports can be filtered for specific examination of details. Moreover, all reports are printable or distributed appropriately through authorized emails.